INFORMATION BY CANCER TYPE
Prostate
Feature Video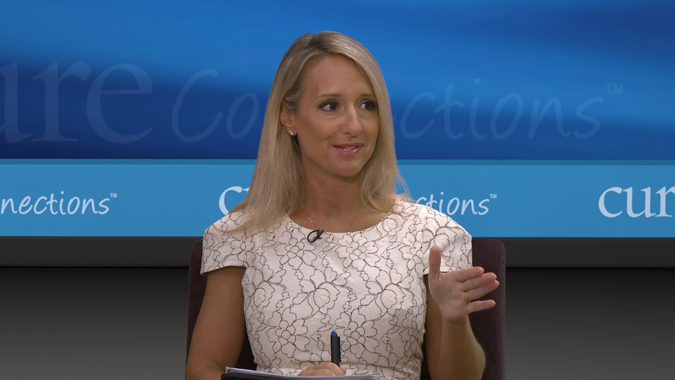 Receiving a diagnosis of prostate cancer can be frightening and confusing. Understanding the details of your specific cancer and how they relate to your prognosis and treatment planning is an important first step toward shared decision-making between you and your physicians. In these CURE Connections programs you will learn the meaning of the PSA test, prostate cancer staging and grading, and how these factors are used to determine which treatment approach is right for you. Management of prostate cancer related symptoms, available treatments, and how to deal with side effects are also discussed. In addition, you will hear from patients and caregivers about their personal experiences with prostate cancer.
Nerve and other damage from cancer treatments can impair men's sexual function, and adjusting can be a challenge.
Since it is found in the majority of patients with mCRPC, circulating tumor DNA may be able to lead the way to more personalized prostate cancer care.
Durvalumab and Lynparza (olaparib) provided a response for patients in a small study.
The Decipher test can be used to predict death and metastases in some patients with prostate cancer, according to findings that were recently presented.
Padeliporfin vascular-targeted photodynamic therapy may be a promising option for men with low-risk prostate cancer, according to the results of a recent study.
Adding hormone therapy to radiation therapy after surgery showed significant survival improvements in a recent study involving men with recurrent prostate cancer.
Findings from a recent study lay out the groundwork to help identify men who are at higher risk from dying of prostate cancer.
CURE spoke with David Albala, M.D., about the impact robotic surgery has had on patients with prostae cancer.
A recent study found that there has been a sharp decrease in the percentage of men who are being treated for prostate cancer.
A team of researchers at the University of Buffalo investigated the role that patients' stress and anxiety plays in deciding on treatment.
Talk about this article with other patients, caregivers, and advocates in the
Prostate
CURE discussion group.
Search Cancer Drugs & Terms
Treatment
Information about treatment, including surgery, chemotherapy, radiation therapy, immunotherapy, and vaccine therapy
Prostate Cancer Treatment (PDQ®)
Expert-reviewed information summary about the treatment of prostate cancer.
Prevention, Genetics, Causes
Information related to prevention, genetics, risk factors
Prostate Cancer Prevention (PDQ®)
Expert-reviewed information summary about factors that may influence the risk of developing prostate cancer and about research aimed at the prevention of this disease.
Screening and Testing
Information about methods of cancer detection including new imaging technologies, tumor markers, and biopsy procedures
Prostate Cancer Screening (PDQ®)
Expert-reviewed information summary about tests used to detect or screen for prostate cancer.